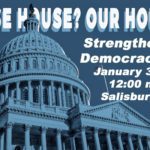 CALL TO ACTION!!
Our rally is part of a nationwide Indivisible Day of Action. As the newly-elected Democrat-controlled House prepares to introduce HR 1, we are sending the message that we expect a robust democracy reform bill! We want:
– reforms on voter empowerment and access
– the groundwork for a constitutional amendment to reform our campaign finance system
– reforms to crack down on corruption at all levels of the government.
We must show Congress that there is a broad resistance to Trump's agenda. Join us!
BRING ALL YOUR FRIENDS! AND BRING SIGNS if you can! Your presence is what is most important.
Address: 101 N. Division Street, Salisbury, MD 21801
Contact person: Cindy Dillon
http://wcmddems.org/event/indivisible-day-of-action/