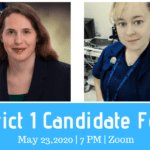 The Democratic Club of Worcester County will be sponsoring a Candidate Forum & Town Hall for the young women running to replace Maryland Representative Andy Harris in District 1.
It is a turning point in this primary election cycle to have three strong women running, coinciding with the centennial celebration of the women's right to vote.
Please join us for a fulfilling and informative evening of political debate and conversation. The event will held on Saturday, May 23 at 7pm via zoom.
Each candidate make a 10 minute personal presentation. Following that, we are going to open it up to direct questions from those that are watching. Anyone who wants to ask a question will make a request on chat including which candidate they wish question to go to. The moderator will monitor chat. The meeting will continue like that until time runs out. Questions other then to avoid duplication.
Our candidates who will be speaking are Mia Mason, Jennifer Pingley.
Participants will need a pc or mac laptop, tablet, or desktop, smartphone or tablet with a camera for video and a mic for voice. Just prior to the start time, please click on the link in the invitation below.  Then if prompted, the Meeting ID and Password that are provided below the link.
Meeting ID: 984 2968 9997
Password: 2cYcQP
You may also join by phone (voice only) by by dialing +1 301 715 8592 US (Germantown)
Meeting ID: 984 2968 9997
Password: 518462
For more information, contact:
Worcester County Democratic Club
Email: wcdemorcrats2020@gmail.com or flipsmd2019@gmail.com
Phone: (719)588-3643
http://wcmddems.org/event/district-1-virtual-candidate-forum/