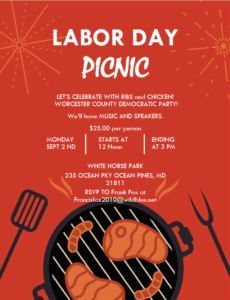 Labor Day is an annual Democratic Party of Worcester County featured event.
DCWC is holding their annual Labor Day Picnic Sept. 2, 2019, 12 to 3 PM, at White Horse Park 235 Ocean Parkway, Ocean Pines, MD 21811
The food, from EM-ING's, will include Chicken, Baby Back Ribs, Potato and Macaroni Salads with Wine, Beer, Soda and water served. Price per person is $25.00.
Tickets can be purchased from DCWC Board member Frank Fox. Send checks payable to DCWC to:
Frank Fox
2553 Buccaneer Blvd.
Greenbackville, VA 23356.
Questions can be sent to FrancisFox2010@wildblue.net